| | |
| --- | --- |
| Beachside Fellowship News | April 20, 2017 |
Sept


Dear Beachside Family and Friends,
There is a popular "myth" which declares that cockroaches can survive a nuclear explosion. While they might be vaporized by the explosion itself, research has proven that the stubborn insects can survive 10,000 rads of radiation exposure. Human exposure to only 1000 rads usually results in a very rapid death. The survival of cockroaches when exposed to these extremely high levels of radiation is attributed to their very simple cell structure, as radiation destroys life at the cellular level.
The media are reporting that those living in Hawaii are in panic mode over a possible nuclear attack by North Korea. The threat is real, and the fear palpable. Not since the Cuban missile crisis of 1962 has there been a reason to be troubled about nuclear missiles striking United States territory. While cockroaches cannot be exploited by terror and fear, human beings can, and many in Hawaii are gravely concerned.
Our leaders, both political and military, are responsible to deter such threats, and to act in ways necessary to protect our citizens. We do not know what they know, so we must trust in their wisdom and judgment. As Christians, our lives and well-being are not determined by the actions of others. Knowing this, what should we do when faced with the fear of nuclear annihilation? For that matter, what should we do about terror in any form?
There are two things that we must understand and act upon. First, the Bible tells us we need not worry about anything. In Matthew 6:26-27 Jesus tells us "Look at the birds in the air. They don't plant or harvest or store food in barns, but your heavenly Father feeds them. And you know that you are worth much more than the birds. You cannot add any time to your life by worrying about it." Birds and cockroaches don't spend one second worrying about nuclear destruction. They simply live their day-to-day lives expecting to be provided for.
Secondly, we are promised protection from nuclear annihilation. If we act in faith and trust in God and His Word, we should never be afraid. During the height of the Cold War, I discovered some assurances in the Bible. I found them in Psalm 91. Verses 4-8 declare "He will cover you with his feathers, and under his wings you can hide. His truth will be your shield and protection. You will not fear any danger by night or an arrow (missile)during the day. You will not be afraid of diseases that come in the dark or sickness that strikes at noon. At your side one thousand people may die, or even ten thousand right beside you, but you will not be hurt. You will only watch and see the wicked punished."
Still other guarantees are available to those who live by faith. "In every situation take the shield of faith, and with it you will be able to extinguish all the flaming arrows (missiles) of the evil one." (Eph 6:16) When we live by faith and trust in God's Word, we will not fear anything our enemies may do, human or demon. If ten thousand people died next to us, we would survive and thrive with all others who put their faith in God.
We were not born again into the Kingdom of God to be destroyed by maniacal despots in North Korea or any other place on this earth. "Those who go to God Most High for safety will be protected by the Almighty. I will say to the Lord, "You are my place of safety and protection. You are my God and I trust you." (Psalm 91:1-2) Are we not worth more to God than birds, or even cockroaches? Let's kick fear and terror out of our lives and be confident of God's protection. As the scripture declares: NO WORRIES!
Pastor Ramon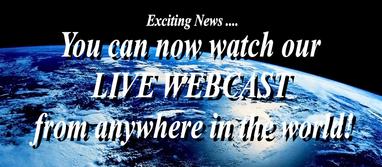 We finally have our live webcast up and running. You can either watch live (if you are not able to be in service with us) or watch the latest episode when we are not streaming live. It is still in the development stage, but we encourage you to check it out! Click on the picture and it will take you right to the page on our website.
Giving Made Simple

Occasionally we have people who wish to give to this ministry who are not able to attend our services. To make it easier for people to do so we now can accept tithes and offerings via your debit card. Simply click the link at the bottom of this message and you will be taken to a safe and secure Paypal link that will assist you. Thank you and GOD BLESS YOU for your generous support!