| | |
| --- | --- |
| Beachside Fellowship News | August 17, 2017 |
Sept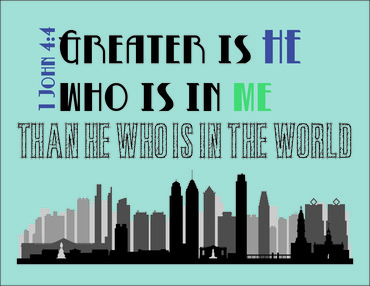 Dear Beachside Family and Friends,
This past weekend a demon-controlled man ran his vehicle into a crowd protesting a white supremacist rally in Charlottesville VA, killing one and injuring several others. There is no defense for, or excuse for his actions. Earlier this summer, a man opened fire on a Republican baseball team practice, critically injuring a congressman and injuring others to a lesser degree. There is no defense for, or excuse for his actions.
Typically, the news media and the political left are using the Charlottesville incident to blame the president and advance their agenda. They were very quiet when a congressman was almost killed, and the story quickly faded from the headlines. Both life destroying attacks were clearly carried out by individuals motivated by hatred for those with whom they disagree. The problem of political violence has been in the world for thousands of years, and is not likely to disappear anytime soon. Society struggles to deal with these events, and government seeks solutions in law and regulation. Almost everyone deplores this kind of violence, and wants it to end, yet it will never stop until the root of the problem is understood and removed.
We must look beyond policy disagreements
and the politics of race in order to deal with individuals who feel compelled to maim and murder for their cause. What is it that really drives their actions? Since God created us in His image, our life motivation should be love, not hatred. How is it that beautiful baby boys and girls grow into monsters consumed by death and destruction? How do human minds become so dark and filled with pain that the only recourse is to destroy the lives of others?
This is not normal behavior for individuals who have received life from God Himself.
The answer is actually quite simple, and does not require a degree in psychology to grasp. As much as our Heavenly Father loves us, Satan hates us. He thrives on death, destruction, and human misery. Jesus addressed this in the Gospel of John 10:10 "The thief does not come except to steal, and to kill, and to destroy. I have come that they may have life, and that they may have it more abundantly." Stealing, killing, and destroying is the purview of Satan, ABUNDANT LIFE is the promise of Jesus.
Satan blinds and controls the minds of those who coldly deal out death and destruction. They are dominated by a cruel will which insists on the torment of others. Paul wrote "Satan, who is the god of this world, has blinded the minds of those who don't believe." (2 Cor 4:4) Murderers and terrorists are in His control, and their violent rages cannot be stopped by law or government. That is not to say there is no hope to solve this ptoblem. In fact, there is GREAT HOPE, but not one founded in human reason. Satan can out-think and out-perform any human mind, so to fight him in the arena of reason is both perilous and pointless. If we want this violence to end, we must choose another way.
The answer to the challenge of political violence can only be found in warfare that we can win with weapons the devil doesn't have.
2 Corinthians 10:3-5 tells us "We do live in the world, but we do not fight in the same way the world fights. We fight with weapons that are different from those the world uses. Our weapons have power from God that can destroy the enemy's strong places. We destroy people's arguments and every proud thing that raises itself against the knowledge of God. We capture every thought and make it give up and obey Christ."
Jesus defeated Satan and every demon that works for him when He rose from the dead. Jesus is the Head of the Church, and made this statement:"I will build My church, and the gates of Hades shall not prevail against it." (Matt 16:18) Christians are the Church, and we must take a stand against Satan and the demon spirits controlling those who are planning murder and mayhem. The Name of Jesus is more than enough to force the devil and his accomplices to cease their activities against our Nation. Flesh and blood is not the problem, Satan is. Remember this "You are of God, little children, and have overcome them, because He who is in you is greater than he who is in the world!" (1 John 4:4)
Pastor Ramon
Giving Made Simple

Occasionally we have people who wish to give to this ministry who are not able to attend our services. To make it easier for people to do so we now can accept tithes and offerings via your debit card. Simply click the link at the bottom of this message and you will be taken to a safe and secure Paypal link that will assist you. Thank you and GOD BLESS YOU for your generous support!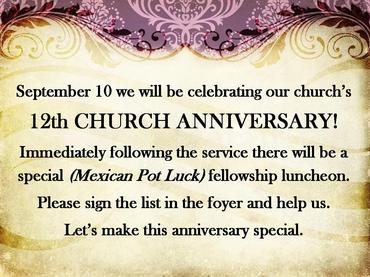 Women Of Joy

Hello Ladies .....We will be having a great time at our Women Of Joy meeting, Tues September 12th at 6:00pm. Come prepared to laugh and have a great time in the Lord. Please bring your friends and a salad to share. We can't wait to see you!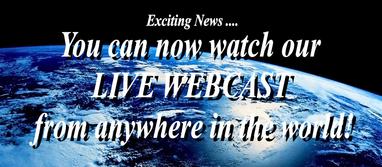 Our live webcast is now available on the Beachside Fellowship Facebook page and at
Beachsidefellowship.com
. You can either watch live (
if you are not able to be in service with us
) or watch the latest episode when we are not streaming live. Click on the picture and it will take you right to the page on our website.