| | |
| --- | --- |
| Beachside Fellowship News | July 27, 2017 |
Sept

Dear Beachside and Family and Friends,
With each passing day, I grow more grateful for the life that God has given me. He has saved me and promised me eternal life in heaven. He has also made it possible for me to enjoy life here on the earth and experience His presence every day. Thanks to Hm, my life is not merely bearable, it is wonderful! When I think of all He has done for me, I want to fall on my face and worship Him, jump up-and-down and shout, or do both at the same time! God alone has the power to take someone like me, use me for His glory, and make my life truly meaningful. I am forever in awe of His goodness.
God did not place us on the earth so that we may live empty and meaningless lives. He does not expect us to simply exist and stumble through unproductive and unfulfilled lives, yet there are many, including some Christians, whose existence is sad and filled with bitterness hurt, and rejection.
Some are so unhappy they despair of living another day. They wake up without hope and go to bed in want of comfort and assurance, waking only to start the cycle over again. Eventually life becomes unbearable and they seek a way out. The American Federation for Suicide Prevention informs us that last year, over 1.2 million people attempted suicide, with just over 44,000 ending their lives: lives for which God had plans, people for whom Jesus gave His life. Why does this happen when life can be happy and blessed?
Paul wrote to the Ephesians about their lives. He said "In those days you were living apart from Christ.....You lived in this world without God and without hope." (Eph 2:12) Hope that life will get better and become meaningful and fulfilling does not come from this world. The world system cannot provide hope. Only God can supply the hope that so many so desperately need. The spirit of death, destruction, and suicide has been at work in the world since the temptation of Eve and Adam in the garden. Ephesians 2:2 says "You used to live in sin, just like the rest of the world, obeying the devil—the commander of the powers in the unseen world. He is the spirit at work in the hearts of those who refuse to obey God." Satan deceives men with faise hope, encouraging them to place their trust in riches, relationships, and government, knowing that when these fail hopelessness will drive the deceived to despair and death. People cannot save us, government cannot meet our needs, and politicians will not deliver us. Hope in this world and its' system is empty and in vain.
In spite of these things, there is Good News for those who are hopeless, seeing death as the only way out. God's Word speaks to our need for a hope that is real and lasting. 1 Peter 1:3 reads "Praise be to the God and Father of our Lord Jesus Christ. In God's great mercy he has caused us to be born again into a living hope, because Jesus Christ rose from the dead." Giving our lives to Jesus brings a hope that cannot die, and before which all demons of despair must flee. Every life is important to God, your life i? important to Him, and He can and will restore you to happiness, peace and rest. Jesus says "Come to me, all of you who are weary and carry heavy burdens, and I will give you rest. Take my yoke upon you. Let me teach you, because I am humble and gentle at heart, and you will find rest for your souls." (Matt 11:28-29)
Give your burdens, your hurts and your despair to Jesus. He loves you, accepts you as you are, and will give you rest that will change your perspective on life. Death is not the answer: death Has Been Answered by the One who triumphed over it. Jesus died and rose again to give us life that can never be defeated and cannot be overcome by the hurts and rejections that assail us. Each one of us is loved by the Father, the Son has destroyed the power of death, and the sun will shine again in our lives. We can make the choice to be happy, confident in the knowledge that God loves us, and be grateful for everything He has done. Together we can fall on our face and worship Him, then jump up and down and shout, "O happy day, O happy day, when Jesus washed my ?ins away!"
Pastor Ramon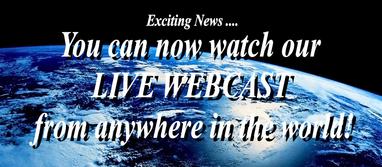 Our live webcast is now available on the Beachside Fellowship Facebook page and at
Beachsidefellowship.com
. You can either watch live (
if you are not able to be in service with us
) or watch the latest episode when we are not streaming live. Click on the picture and it will take you right to the page on our website.
Giving Made Simple

Occasionally we have people who wish to give to this ministry who are not able to attend our services. To make it easier for people to do so we now can accept tithes and offerings via your debit card. Simply click the link at the bottom of this message and you will be taken to a safe and secure Paypal link that will assist you. Thank you and GOD BLESS YOU for your generous support!